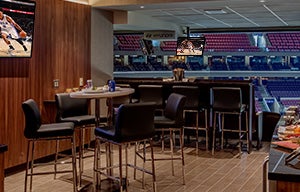 Wells Fargo Center Luxury Suites offer an ideal environment for building business or simply enjoying an upscale night out with the 76ers. Luxury Suites accommodate 12 to 18 guests and Party Suites can host up to 50. Each luxury entertainment space includes in-suite catering, VIP Will Call entry, a private restroom, full bar, and host service.
215. 389. 9543
More Info
Special Group Opportunities
76ers Fundraising Program - Purchase group tickets at a discounted rate, re-sell the them at face value, and donate the profits to your cause!
Group Experiences - Make your outing memorable with exclusive opportunities like playing a game on the Sixers' court, performing in front of the crowd, and seeing NBA players up close.
Group Nights - The schedule is packed with opportunities to put your group in the spotlight including Scout Nights, Military Appreciation Nights, Police & Fire Appreciation Nights, Faith & Family Night, Jewish Heritage Night, and more!
Meeting Space - Reserve a space to host your meeting before or after a game. All AV and other presentation needs can be met by request.
Additional Exclusive Benefits - Discounts on Select Games, no Per-Ticket Service Fees, Group Scoreboard Welcome, Complimentary Promotional Fliers & Posters, Playoff Ticket Priority, and More!
For more information on group opportunities, call 215. 339. 7676