Comcast Spectacor continues with their extensive $250 million, multiyear redesign plan. With the completion of the Suite Level in 2016 and the Mezzanine Landings this past September, Wells Fargo Center has transformed 82 Luxury Suites into brand new private event spaces and created two large open-concept areas. Cutting edge lighting technology including LED globe lights and GOBO projectors now illuminate both Mezzanine Landings with colors, logos, and special effects while large game-action screens and new menu boards transform concession stand facades.
On the heels of these major upgrades, the next chapter of renovations is focused on transforming the remainder of the Mezzanine Level, leaving not a single aspect of the original layout once work is complete. Highlights include:
Multifunctional, open-concept concourses featuring views of Philadelphia's skyline
Over 150 new LED game-action screens, menu boards and illumination technology
8,000 brand new seats featuring cup holders
Expanded food and beverage locations and offerings
Two new open air lounges providing premier amenities and open-space socializing
Beyond the Mezzanine Level, upcoming phases of the redesign will include a state-of-the-art sound system with equipment and software that deliver improved range and sound clarity throughout the venue and the transformation of the remaining Premium Seating areas. Communications will be sent to Premium Members as plans continue to evolve.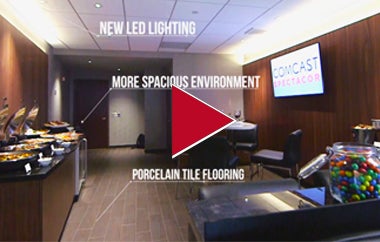 A more spacious environment
New stools, cabinets, furniture and finishes, including an additional barstool per suite
Built-in induction burners and contemporary serving dishes
Opportunity to showcase your company logo (upgrade option)
High-back leather arena seats
Porcelain tile flooring and new carpet in the seating area
LED overhead accent lighting
New LED lighting and side-lit mirrors in restrooms
Suite Level entrance & corridor improvements
More Info