Feel the glow of holidays past and present as you step into an illuminated escape with your friends, family, and loved ones. Sprung just steps from Wells Fargo Center, Winter on Broad Street: A Holiday Light Spectacular! presented by Dietz & Watson welcomes you to find the magic of the season as you meander through 193 larger-than-life light sculptures and displays. Indulge in yuletide confections and fill your senses with your favorite holiday traditions.
Make lasting holiday memories at this safe and socially-distant winter wonderland. With seasonal surprises along the path, every inch of this twinkling wonderland comes to life for winter lovers of all ages.
November 27 - January 3
The Wells Fargo Center has implemented COVID-19 procedures to protect guest health and safety. We have been working closely with the City of Philadelphia to meet and exceed all established health and safety requirements.
APPLY TO BE A VENDOR IN MISTLETOE MARKETPLACE
There are still vendor spots left! Local businesses interested in exhibiting in Mistletoe Marketplace can request more information at:
wfc-groupevents@comcastspectacor.com.
Nobody brings the yuletide quite like Gritty. Mingle and jingle with the infamous Flyers mascot as he pops in to his very own mini workshop each night of Winter on Broad Street!
SPECIAL ATTRACTIONS
For those looking for a safe way to socialize, Winter on Broad Street will offer a number of unique and interactive experiences for all ages.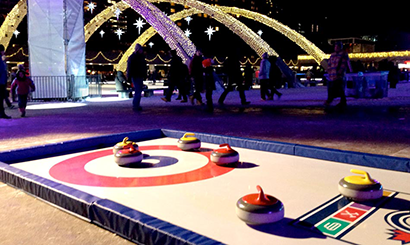 CURLING
Think you have what it takes to be an Olympic Curler? Come slide into action on one of our synthetic curling courts. Each 20-minute game is $10 to play and can accommodate up to eight players.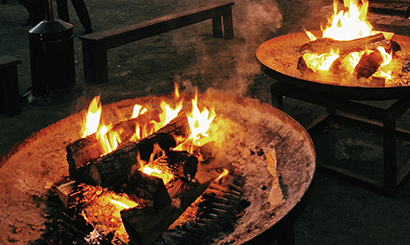 HOLIDAY HEARTHSIDE
These crackling fire pits are nestled within the winter wonderland ready for guests to warm themselves up and make lasting memories with their families and loved ones for holidays to come. Fire pits are available on a first-come, first-served basis and can sit up to six people.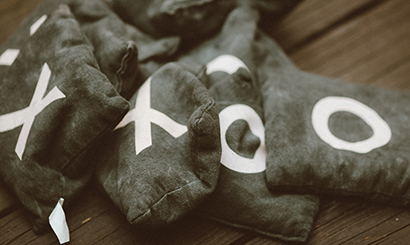 REINDEER GAMES
America's favorite lawn games - winterized! Engage in a little holiday competition with cornhole and giant versions of Jenga, Connect Four and Tic Tac Toe.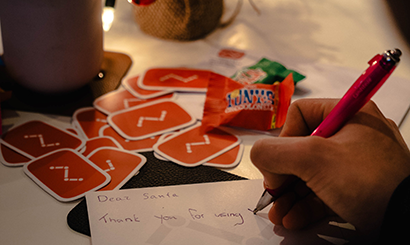 LETTERS TO SANTA
Have you made Santa's Naughty or Nice List this year? Stop by the workshop to craft your letter and drop it in the mail. Next stop - North Pole!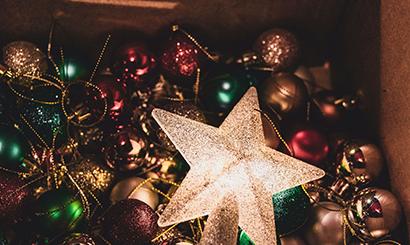 ORNAMENT GUESSING GAME
Presented by Novacare Rehabilitation. Put your guessing skills to the test and tell us how many ornaments you think it takes to fill our giant gift box! The winning guess will get a pair of tickets to a Flyers game or Wells Fargo Center event and a dinner in the Cadillac Grille.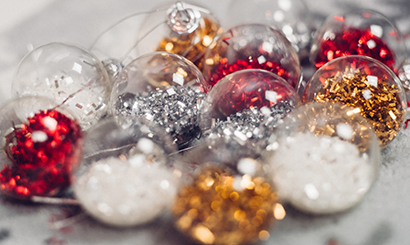 ORNAMENT DECORATING
Swing by this cheerful DIY holiday ornament workshop, perfect for all ages. You will have the option to craft complimentary, DIY ornaments, or upgrade to a special keepsake ornament for your tree.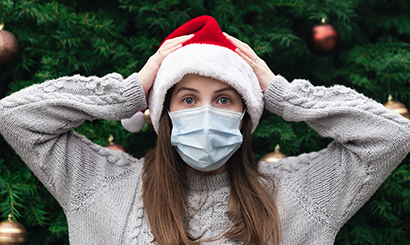 FAMILY PHOTO AREA
It's never too late to take the perfect holiday photo! Jump into our 10-foot Santa's sleigh and take the ultimate photo with your friends and family. Patrons are responsible for taking their photos at these locations.
WINTER ON BROAD STREET CALENDAR
November 27th - January 3rd.
Event opens at 5 p.m. daily.
All ticket buyers will be required to select a designated arrival window when purchasing. Sellouts are anticipated - patrons are encouraged to book their timed tickets early.
TICKETS
General Admission
Adults: $32.50 | Children under 13: $27.50
Special Santa's Savings Days (Noted above in blue)
Adults: Starting at $25 | Children under 13: Starting at $20
Admission is free for children five and under.
Groups of 10 or more save up to $5.00
Call 215-389-9543 or email wfc-groupevents@comcastspectacor.com
FREQUENTLY ASKED QUESTIONS
WHERE DO I PARK? IS PARKING FREE?
All guests can park for FREE in Wells Fargo Center's E Lot.
HOW LONG DOES THE WINTER ON BROAD STREET EXPERIENCE TAKE?
The Winter on Broad Street experience is estimated to take about 60-90 minutes.
WHAT IF I MISS MY TIME SLOT?
Due to limited capacity, guests are asked to arrive within their allotted time slot.
Wells Fargo Center has put the following COVID-19 procedures and precautions in place to protect the health and safety of its guests:
Limited capacity and timed ticket entry: ​Our time tickets and capacity limits will allow for ample social distancing at all times during the Winter on Broad Street experience.
Linear Layout: ​Winter on Broad Street was designed in a one-way, linear layout to keep guests moving and socially distant during their visit.
Required use of PPE and face masks: All guests and staff will be required to wear a face mask at all times, except while seated in the designated food and beverage areas.
Social Distancing Protocols: ​Wells Fargo Center staff will assist in maintaining the social distancing of guests as they progress through the event.
Complimentary hand sanitizer stations:​ A number of hand sanitizer stations will be placed throughout the Winter on Broad Street layout to ensure that all guests can sanitize throughout their visit.
Safety Checkpoints:​ A series of staffed safety checkpoints will ensure that all Winter on Broad Street attendees are complying with the required health and safety policies/procedures including mask wearing and social distancing practices.
Enhanced methods and use of EPA-approved disinfectants: ​Wells Fargo Center has increased its frequency of cleaning on high-touch and high-traffic areas including activity stations, restrooms, dining areas and check-out registers.
Contactless Transaction Enhancements:​ Wells Fargo Center will offer contactless payment options at check-out registers.
On-site medical and emergency services:​ Trained medical and emergency staff will be on-site every night of Winter on Broad Street to ensure the health and safety of guests.
Service animals are permitted during all timeslots of Winter on Broad Street.
Yes, strollers are allowed.
CAN I BRING MY OWN FOOD & BEVERAGE?
No outside food and beverage is permitted inside Winter on Broad Street.
HOW CAN MY BUSINESS BE A PART OF MISTLETOE MARKETPLACE?
DO I NEED A TICKET TO THE EVENT TO SHOP AT MISTLETOE MARKETPLACE?
Only Winter on Broad ticket holders will have access to shop in the Mistletoe Marketplace.
Yes, restrooms are available to Winter on Broad patrons inside Wells Fargo Center in the Broad Street Lodge.
ARE WALK-UP TICKETS AVAILABLE?
Pending availability, walk-up tickets may be available. However, due to limited capacities, guests are strongly encouraged to purchase tickets in advance. Click here to purchase and guarantee your time slot.
IS ANY PART OF WINTER ON BROAD STREET HEATED?
No, Winter on Broad Street is an open-air, outdoor event exposed to the elements. Guests are encouraged to dress warmly during their visit.
IS THE WELLS FARGO CENTER'S TEAM STORE OPEN DURING WINTER ON BROAD STREET?
The Wells Fargo Center team store will be open to Winter on Broad Street patrons Monday-Friday from 4-10 p.m.
Winter on Broad Street will offer a pop-up line up of apparel and gift items, sold exclusively at our events. An expanded line of holiday-themed Flyers, Sixers and Gritty items such as home decor, scarves, and clothing is also available online for presale now at Shop.WFCphilly.com.
WHAT HAPPENS IF THERE IS INCLEMENT WEATHER?
All ticket sales are final and no refunds will be issued.
In an event that a night of Winter on Broad Street is canceled due to inclement weather, purchasers will have the option to exchange their tickets for a future date and time.
If an exchange is made for a higher-priced ticket, the difference in price must be paid at the time of the exchange. All other weather-related exchanges will be processed as equal exchanges.
Prices are subject to change and tickets are limited. Ticket exchanges are subject to current gate pricing, blackout dates, and availability.
WHERE CAN I FIND A MAP OF WINTER ON BROAD STREET?
A map of the entire Winter on Broad Street layout can be found here.