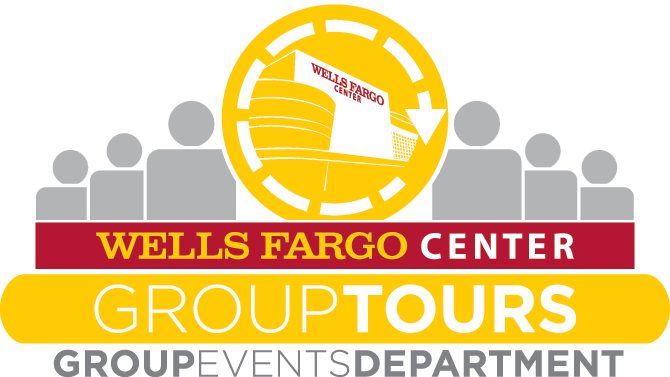 Wells Fargo Center Group Tours are the only way to get behind the scenes in one of the busiest arenas and entertainment complexes in the world. Your group will get to experience things that only our professional athletes and performers get to see and go places that are usually off limits to fans.
Click below or call 215.952.5743 to make a tour appointment!*

*Due to building renovations, tours are currently unavailable and will resume again in August.
More Info
Team Experiences

Experience the Wells Fargo Center from the eyes of a professional athlete. See the player's entrance and parking lot, take a tour of team locker rooms, sit on the Flyers bench, or even visit the penalty box. Also see where the coach's press conferences take place and visit the press box. Youth and amateur sports teams, corporate groups or just any sports fan will love the opportunity to walk in the steps of NHL and NBA legends.

Behind the Scenes

Ever wonder how the Flyers ice is made, how a concert stage gets built or how the JumboTron works? On a Group Tour you can hear from the Wells Fargo Center employees that make all this happen and see these and other behind scenes areas. Also, for more educational experiences, ask how your group can hear from other employees in Marketing, Public Relations, Sales or Food Services. Any tour can be customized to fit your group's interests.

Premium Areas

The Wells Fargo Center is home to some of the most exclusive and high end premium amenities in professional sports. See what it's like to sit in one of our 126 premium private suites or 14 luxurious club boxes and party suites. You'll also get to visit our, member's only restaurant, The Cadillac Grille, courtside club, the Lexus Club, and check out the new Cigar Bar and lounge, home to humidifiers of local celebrities and premium clients.

Arena Exhibits

Take a walk around the Wells Fargo Center when it's not crowded with other fans and visit some of the exhibits you may not have seen before. See all of the hats from Flyers' hat-tricks and learn a little team history at the Flyers Experience or spend some time at the Sixers iWall and check out some game used memorabilia at the 76ers Experience. You can also learn about some of the other major events that have taken place in the arena and see what is coming soon.

Eat, Drink or Meet

You can extend your tour experience by having a private meal at the Wells Fargo Center or stop over to Philly's Dining & Entertainment District, Xfinity Live!, for a post tour happy hour. The Wells Fargo Center also offers a unique experience for corporate groups to host an offsite meeting in one of our executive meeting spaces.
Additional Information
Please note, Group Tours can be scheduled for groups of 25 or more. Extra amenities may be added upon request and availability with an additional fee. Call to schedule a tour and discuss ways to maximize your group's experience.

215.952.5743