2019 Coors Light NHL Stadium Series™ Jersey Available For Purchase Exclusively at Wells Fargo Center
Feb

1

, 2019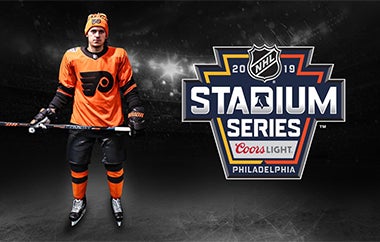 The Philadelphia Flyers®, National Hockey League (NHL®) and adidas today unveiled the new adidas ADIZERO Authentic NHL jerseys for the 2019 Coors Light NHL Stadium Seriesä. Specifically designed for this game, the special-edition uniforms will make their on-ice debut when the Flyers hit the rink outdoors at Lincoln Financial Field® on Saturday, February 23. The game will be broadcast at 8 p.m. ET on NBC in the United States and on Sportsnet and TVA Sports in Canada.
The 2019 Coors Light NHL Stadium Seriesä jersey will be available for purchase for the first time exclusively at Wells Fargo Center beginning on Saturday, February 2. The New Era team store will open at 10 a.m. to accommodate fans prior to the Flyers facing off against the Edmonton Oilers at 1 p.m.
New Era Team Store Hours
Monday, February 4 – 10 a.m. to 3 p.m.
Tuesday, February 5 – 10 a.m. to 3 p.m.
Wednesday, February 6 – 10 a.m. to 5 p.m.
Thursday, February 7 – 10 a.m. to 4 p.m.
Friday, February 8 – 10 a.m. to 4 p.m.
These new special-edition uniforms embrace the intrastate rivalry in every detail, specifically through the Flyers' use of their heritage Burnt Orange.
This year, adidas designers looked to make even more of a visual statement in the stadium by developing a completely new cresting material based on workwear duck canvas. High gauge yarns are woven into a thick textile so that it can stand on its own without a twill backing. Team crests were essentially cut out of sheets of this thick material, like machined plates of metal and fused together using triple needle stitch on the cresting.
In addition to new cresting and embellishments, this year's jerseys add oversized stripes that have been magnified to scale for Lincoln Financial Field. Philadelphia's jersey highlights a scaled-up version of the chevron stripes from their 1992-2007 looks. Additional design details for the Flyers jersey includes "PHILLY" in block letter stenciling to represent the host city, along with a special-edition 2019 NHL Stadium Seriesä patch on the right shoulder of the jersey.
At the forefront of innovation, design and craftsmanship, the adidas adizero Authentic jersey takes the hockey jersey silhouette to the next level by redefining fit, feel and lightweight construction. The adidas adizero Authentic jersey is lighter, cooler and stronger, featuring adizero lightweight cresting and twill numbers, adidas Clima® technology and Aeroknit detailing, the platinum NHL Shield and an interior fight strap.
The special-edition Flyers adidas adizero Authentic Pro NHL Stadium Series™ jerseys will be available online at Shop.WFCPhilly.com or in person at the New Era Team Store at Wells Fargo Center.