Fifth Annual CCM/USA Hockey All-American Prospects Game
Mar

15

, 2016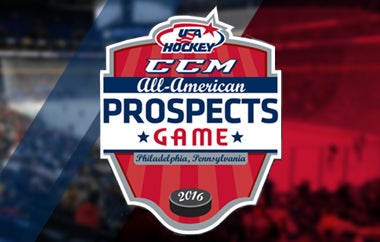 The Philadelphia Flyers and Wells Fargo Center have been selected to host the fifth annual CCM/USA Hockey All-American Prospects Game. The game will take place on Thursday, Sept. 22, with opening faceoff set for 7 p.m. ET.
Tickets will go on sale Thursday, March 17, at 10 a.m. exclusively online at ComcastTIX.com, by calling 1-800-298-4200, or by visiting the Wells Fargo Center Box Office.
The CCM/USA Hockey All-American Prospects Game includes two teams made up of the top American-born prospects eligible for the 2017 NHL Entry Draft. Standouts Jack Eichel (Buffalo Sabres), Noah Hanifin (Carolina Hurricanes), Dylan Larkin (Detroit Red Wings) and Seth Jones (Columbus Blue Jackets) are among the current NHL stars that have played in the game previously.
"We're excited to be bringing this game to Philadelphia in concert with the 50th anniversary of the Flyers," said Mike Bertsch, assistant executive director of events, marketing and communications for USA Hockey. "Fans will have the unique chance to see the future stars of the NHL all on one sheet of ice, and the players are in for a real treat as well with the rich history and rabid fans that are associated with the Flyers."
"On behalf of the Flyers organization, we are thrilled to be able to host such a great event as this," said Paul Holmgren, president of the Philadelphia Flyers. "Flyers fans, and hockey fans in general, will have the unique opportunity to see NHL stars of the future compete here at the Wells Fargo Center. We are sure fans are going to have a great time watching such a spectacle."
To date, 74 alumni of the CCM/USA Hockey All-American Prospects Game have been drafted into the NHL, highlighted by 15 first-round selections.
"This event is terrific in multiple ways," said Jim Johannson, assistant executive director of hockey operations for USA Hockey. "It's a great showcase for the American player and highlights how far the sport has come in our country. It also gives us an opportunity to have some of the great American players of the past behind the bench to serve as coaches. And finally, it's fun for the fans to have the chance to see the next generation of elite players in our country, many who will wind up in the NHL."
Players will be chosen by USA Hockey in conjunction with NHL Central Scouting, with the final rosters typically unveiled in August … USA Hockey will unveil the CCM-designed uniforms for the game as well as the coaches for the game in the weeks ahead … Previous host sites for the CCM/USA Hockey All-American Prospects Game include Buffalo (2012, 2014, 2015) and Pittsburgh (2013).