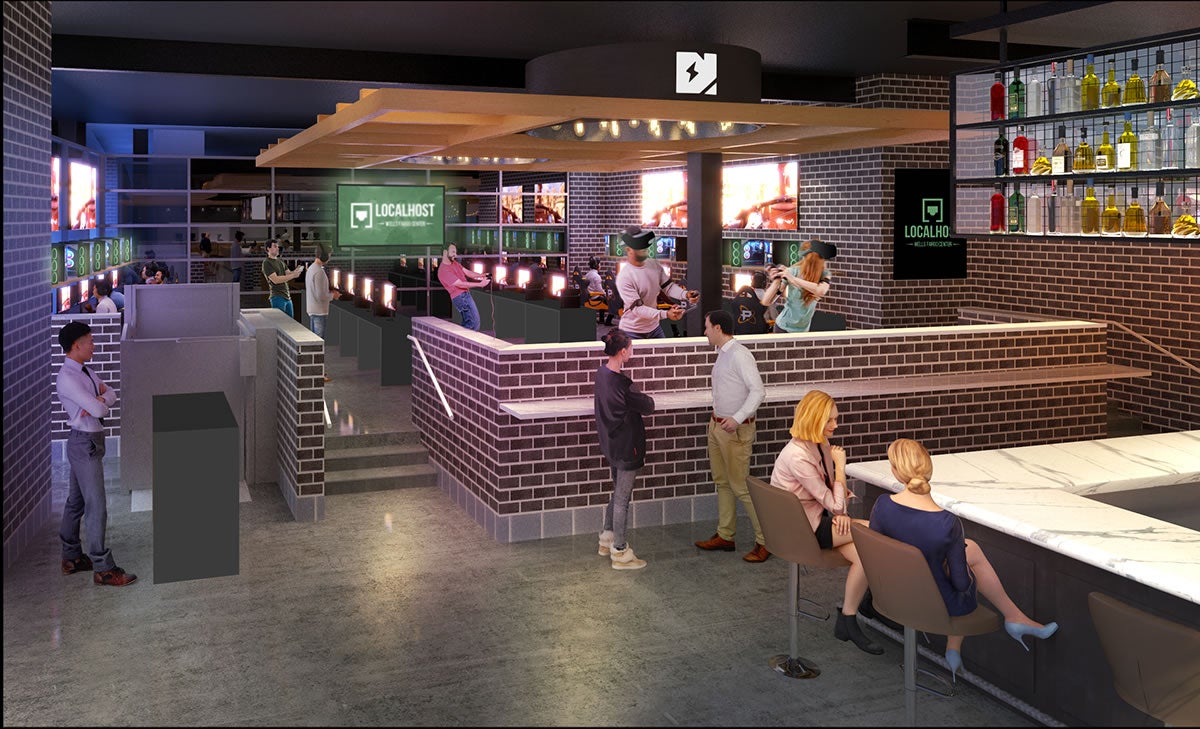 Nerd Street Gamers Teams Up With Wells Fargo Center To Open First Dedicated Public Esports Space In A Pro Stadium
Sep

27

, 2019
Nerd Street Gamers, the national esports infrastructure company dedicated to powering competitive opportunities for gamers, has teamed up with Comcast Spectacor to bring a first-of-its-kind, pro-level gaming space to the Wells Fargo Center. The installation of a Localhost marks the first time a major sports arena in the United States will house an esports center as an amenity for event attendees.
"We're connecting traditional sports and esports for fans because there's a direct connection between their love for their favorite traditional sports franchises and their love for video games," said Rob Johnson, Chief Operating Officer of Nerd Street Gamers. "At the Wells Fargo Center, fans will now have access to the excitement of their favorite teams coupled with the thrill of their favorite games."
"Through this new gaming space and partnership, we have created another unique destination for our guests within the Wells Fargo Center," said Valerie Camillo, President of Business Operations for Philadelphia Flyers and Wells Fargo Center. "We know that many of our fans were first exposed to hockey through video games, so this gaming space will provide a way for fans to show off their skills."
Localhosts are esports facilities that feature the same high-powered computers that professional gamers use in major tournaments offering a fun, social environment for players of all skill levels to come together, play their favorite games, and compete with friends and other gamers. Managed under Nerd Street Gamers, each Localhost is fully staffed with associates dedicated to building community and hosting gaming tournaments and events.
Localhost Wells Fargo Center will be equipped with professional-grade PC and console gaming stations and will be open before, during, and after events for Wells Fargo Center patrons. The area features a dedicated separate entrance and will host competitive gaming events in conjunction with event theme nights and special ticket packages for groups and gaming communities.
On select days in which there are no other events at the Wells Fargo Center, the area will host competitive gaming tournaments making it an esports destination all year long. These special events held throughout the year will feature competitions, retro gaming contests, discounted food and drink, and an expanded space within the arena.
Localhost Wells Fargo Center will be open to fans attending the Overwatch League Grand Finals on Sunday, September 29 as a preview and will open regularly for Wells Fargo Center events starting Wednesday, October 9, for the Philadelphia Flyers home opener vs. the New Jersey Devils.
For more information, please visit www.nerdstgamers.com. For tickets to upcoming events at Wells Fargo Center, visit www.wellsfargocenterphilly.com.
About Nerd Street Gamers
Nerd Street Gamers (NSG), is a national network of esports facilities and events dedicated to powering competitive opportunities for gamers. The company promotes greater access to the esports industry, laying a national framework for esports talent development and high-quality gaming tournaments. NSG has received early backing from SeventySix Capital, a premier sports tech venture capital firm, and Comcast Spectacor. For more information, please visit http://www.nsg.gg.
About Wells Fargo Center
Wells Fargo Center is one of the busiest arenas in the world, hosting 250-plus events and welcoming in more than 2.6 million fans each year. Home to the National Hockey League's Philadelphia Flyers, Nation Basketball Association's Philadelphia 76ers, as well as the National Lacrosse League's Philadelphia Wings and the Arena Football League's Philadelphia Soul, Wells Fargo Center is the epicenter of Philadelphia sports and entertainment culture. Since opening its doors in 1996 the arena has hosted a long list of nationally-recognized events, including the Republican National Convention (2000), NBA All-Star Weekend (2002), ESPN X-Games (2001/2002), Stanley Cup Finals (1997/2010), NHL Entry Draft (2014), NCAA Frozen Four (2014), and the Democratic National Convention (2016).
Currently in the midst of Transformation 2020, a multi-year $250 million renovation initiative, Wells Fargo Center is reinventing the live event experience for every fan that walks through its doors. To learn more about Wells Fargo Center visit www.wellsfargocenterphilly.com or follow us on Twitter, Facebook, and Instagram.