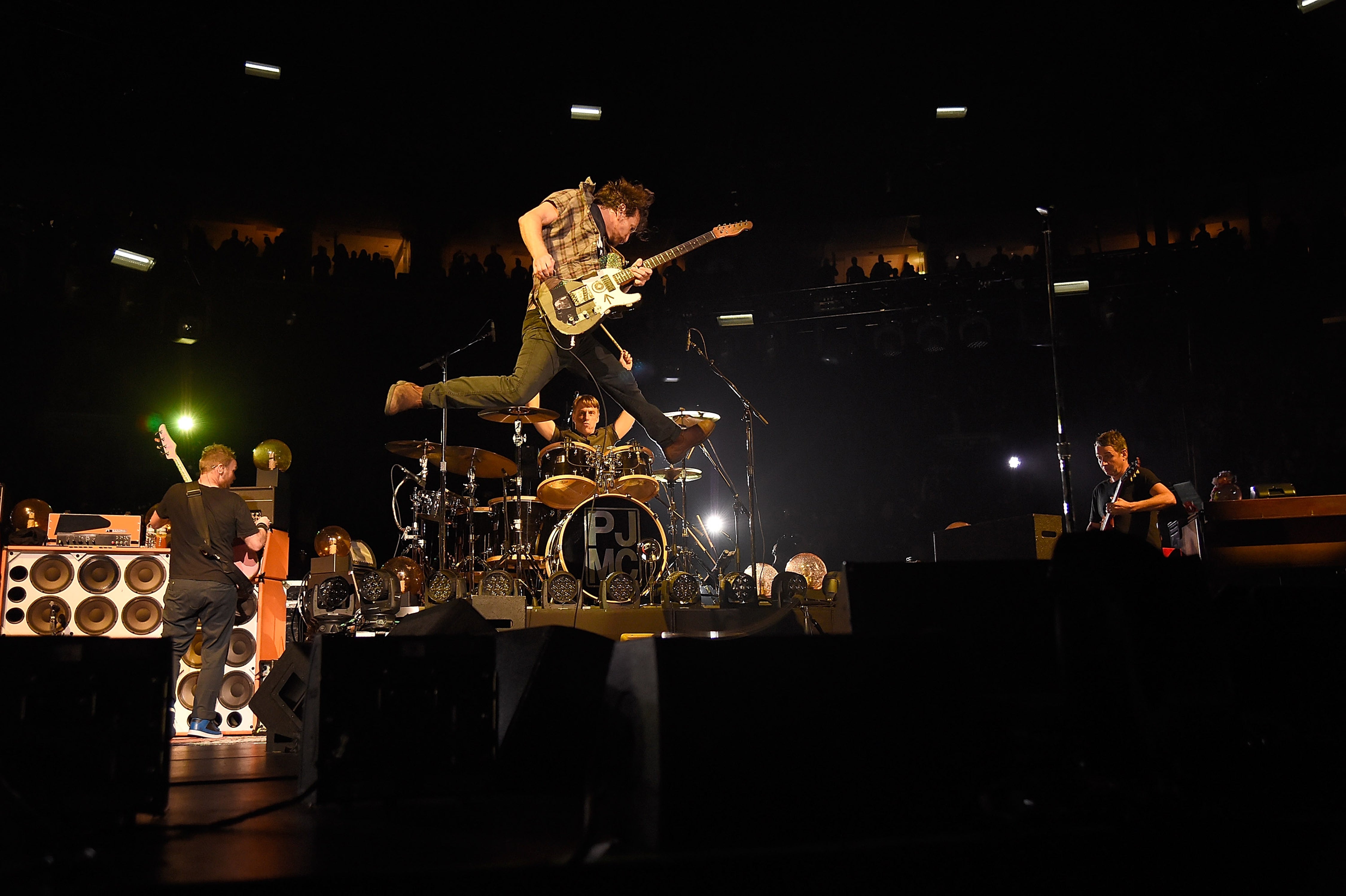 Pearl Jam to Stream Historic Philadelphia Show on Nugs.net Ahead of November General Election
Oct

13

, 2020
PPV Stream Features Never-Seen-Before HD Footage of 32- song set, newly mixed in stereo and 5.1 digital surround sound
New Pearl Jam single "Get It Back" available tonight on all digital platforms 12AM EST
PHILADELPHIA (October 10, 2020) -- On October 22, the 30th anniversary of Pearl Jam's first live performance, the band will stream its historic April 29, 2016 Philadelphia concert on nugs.net.
The blistering 3-hour show from Wells Fargo Center kicks off with Pearl Jam's multi-platinum debut album "Ten" performed from beginning to end.
Pearl Jam partnered with nugs.net to present this HD 32- song set, newly mixed in stereo and 5.1 digital surround sound by Pearl Jam producer, Josh Evans. This never-seen-before footage was captured using 11 HD cameras by videographer Blue Leach and edited by PJ archivist Kevin Shuss.
The PPV stream will be available from October 22 through October 25 in advance of the November 3 general election. Tickets are available on nugs.net for $14.99 with a portion of each ticket going to support the work of Pearl Jam's Vitalogy Foundation.
Pearl Jam recently launched a "PJ Votes 2020" initiative to engage its fans to become active voters this election cycle. The initiative invites fans to join the band in their take Three Pledge: Vote by Mail, Recruit Three Friends, and Don't Wait. As part of this program, Pearl Jam has partnered with both national and local Pennsylvania nonprofit organizations like Make the Road Pennsylvania, Penn Future, and national organizations like League of Conservation Voters and People for the American Way. Learn more at pearljam.com/vote or text PJVotes to 52886.
A new Pearl Jam studio single, "Get It Back," was released on Friday, October 2 as a part of the compilation, "Good Music To Avert The Collapse Of American Democracy, Volume 2" which raised $300,000 for Voting Rights Lab. "Get It Back" will be available on all DSPs beginning Sunday, October 11 at 12am EST.
About nugs.net
Founded in 1997 as a fan site for downloading live music, nugs.net has evolved into the leading live music platform for the largest touring artists in the world. Bruce Springsteen, Metallica, Pearl Jam, Phish, Jack White, Red Hot Chili Peppers, My Morning Jacket and many others distribute recordings of thousands of concerts they play through nugs.net. The platform offers live streams, downloads, CDs, Video on Demand, and the only streaming service dedicated to live music, delivering exclusive live content to millions of fans daily. nugs.net is available on iOS, AppleTV, Sonos and Desktop
About Pearl Jam
2020 officially marks 30 years of Pearl Jam performing live. Eleven studio albums, hundreds of unique live performances and official live concert bootleg releases later, the band continues to be critically acclaimed and commercially successful -- with over 85 million albums sold worldwide. Pearl Jam was inducted into the Rock and Roll Hall of Fame in 2017. Their latest album Gigaton is out now. *Pearl Jam is honored to be on the ancestral lands of the nations whose lands we now call Seattle, including the Coast Salish, Stillaguamish, Duwamish, and Suquamish.