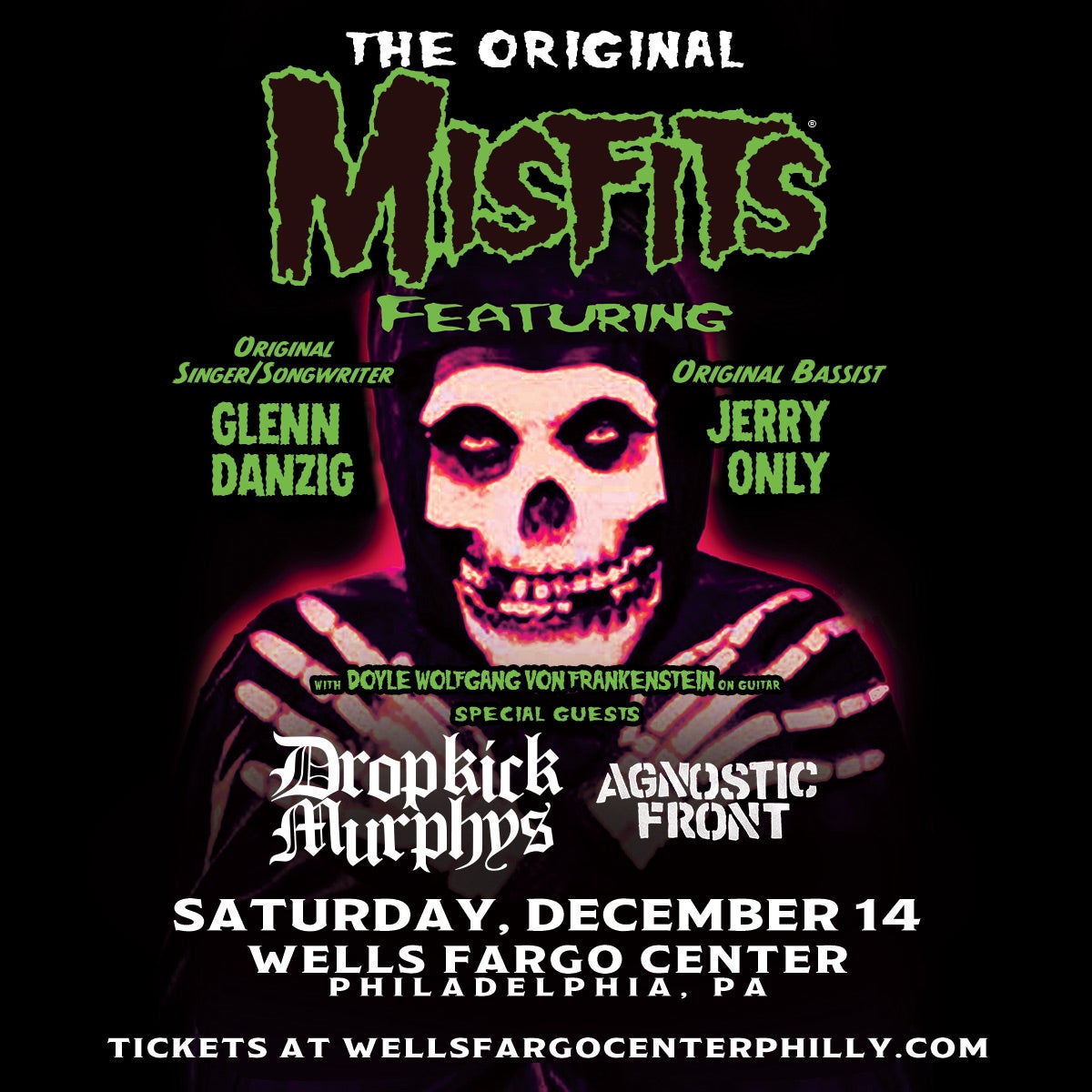 Punk Icons The Original Misfits Featuring Glenn Danzig And Jerry Only To Perform At Wells Fargo Center On Saturday, December 14
Oct

22

, 2019
The Original MISFITS, one of America's most crucially influential, genre-defying bands, will perform with original singer/songwriter Glenn Danzig and original bassist Jerry Only, at Wells Fargo Center on Saturday, December 14. The Original Misfits also feature long-time guitarist Doyle Wolfgang Von Frankenstein and preeminent drummer Dave Lombardo. They will be joined by special guests Dropkick Murphys and Agnostic Front.
From the time of their first gig in 1977, the Original MISFITS and their iconic imagery went on to become one of the most crucially influential, genre-defying bands to ever emerge from North America. The Original MISFITS significance extends well beyond the narrowed path of punk rock, metal & hardcore. Although not cognizant of how significant they would become, what the Original MISFITS achieved in their initial seven-year window deconstructed and redefined rock music.
The Original MISFITS with Danzig's anthemic songs and unmistakable voice, Only's ferocious bass sound, and the Original MISFITS melody-induced choruses and authentically bruising musicianship, cemented their importance with all ensuing generations. And now legions of diehard fans from around the world will have the opportunity to hear the original band that forges a level of intensity unprecedented in the new millennium. Hardcore fans won't want to miss this important chapter in the legendary band's legacy of brutality.
Since forming in 1996, Boston's Dropkick Murphys have sold a staggering 7 million albums worldwide, with 2005's The Warrior's Code achieving an RIAA Gold certification and its smash single "I'm Shipping Up To Boston" nearing double platinum and appearing during a key moment of Martin Scorsese's Academy Award-winning The Departed. They've hosted sold out concerts at most of the city's landmarks, including Fenway Park, TD Garden, the Boston Pops, and even the last voyage of the USS Constitution. Dropkick Murphys­ are touring in support of their 11 Short Stories Of Pain & Glory album, released through the band's own Born & Bred Records in 2017. The album debuted at #8 on the Billboard Top 200 and was the #1 independently released album. There's a feeling of purpose throughout the album, influenced by the band's work with The Claddagh Fund, a charity the band established in 2009 to help support addiction recovery as well as children's and veterans' organizations.
Roger Miret and Vinnie Stigma are lynchpins of New York Hardcore (NYHC), and their band AGNOSTIC FRONT played a key role in defining, shaping and establishing the sound and cultural code of conduct for the still-thriving movement. Unlike the dozens of bands that have come and gone, leaving their indelible footprint along the way, AGNOSTIC FRONT are still going strong, 12 studio albums into their 30-plus year career. In a landscape of increasing apathy and complacency, the messages AGNOSTIC FRONT presents are as relevant today as they were in the '80s when the band members were impoverished, scrappy and ambitious, often fighting for their very survival as well as the perseverance of their volatile but highly inspirational band.
Tickets go on sale this Friday, October 25 at 10 a.m., online at WellsFargoCenterPhilly.com, by phone at 1-800-298-4200, or in person at the Wells Fargo Center box office.