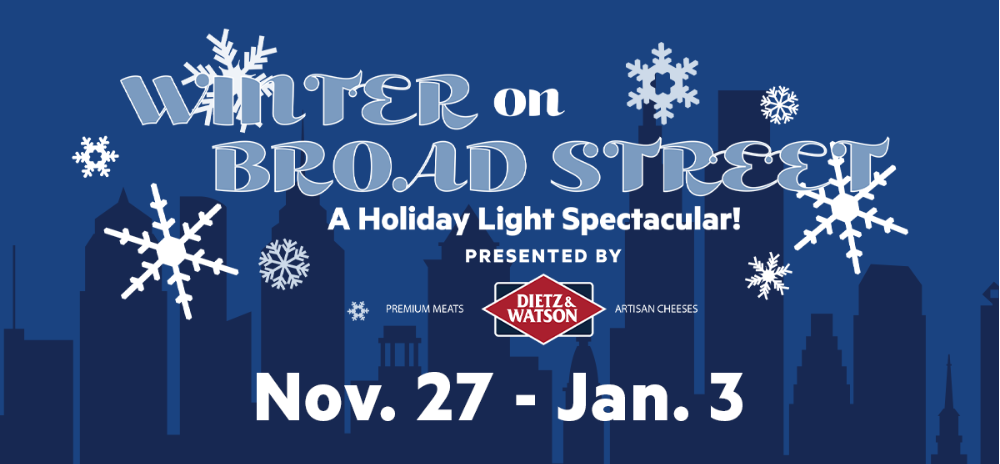 Wells Fargo Center Announces "Winter On Broad Street: A Holiday Light Spectacular! Presented By Dietz & Watson"
Oct

26

, 2020
PHILADELPHIA (October 26, 2020) – A brand-new, dazzling outdoor holiday light attraction is coming to Wells Fargo Center starting November 27. "Winter on Broad Street: A Holiday Light Spectacular! presented by Dietz & Watson" will bring the magic of the holiday season to Philadelphia through an immersive, one-of-a-kind event where guests can stroll through a winter wonderland of lights, shopping, and dining. Winter on Broad Street will run from Black Friday through January 3, 2021. Tickets and capacities for Winter on Broad Street are limited and go on sale tomorrow, October 27 at 2 p.m. Tickets can be purchased at WinteronBroadStreet.com.
Set just steps from Wells Fargo Center in the arena's expansive, open-air lots, this illuminated wonderland will boast a 160,000-plus square foot blueprint housing 193 larger-than-life light sculptures and displays powered by more than a half-million light bulbs. Visitors can expect to see a wide range of whimsical light installations, including a 25-foot reindeer, a 12-foot snowflake, a 20-foot ornament, a 15-foot teddy bear, and twin dazzling diamond sculptures, nestled along a luminous, wooded glen comprised of more than 45 uniquely-designed lit trees.
"The holidays are such an important time for making memories, and we wanted to safely bring the joy of the season to the city during a time when people need it most," said Wells Fargo Center's President of Business Operations, Valerie Camillo. "Winter on Broad Street will provide Philadelphians the chance to celebrate the season at an incredible outdoor, holiday-themed experience that is fun for the entire family."
Conveniently-located in South Philadelphia, the vast footprint of Winter on Broad Street allows for a safe and socially-distant seasonal experience as patrons stroll among the massive light sculptures in this twinkling metropolitan escape. In accordance with city guidelines, guests attending the holiday experience will be capped at a set number and required to wear a mask at all times, except while seated in designated food and beverage areas. Social distancing practices will also be facilitated through timed tickets and entry.
In addition to the lights, this wintry landscape will offer a bevy of concession options where patrons can satisfy their seasonal cravings with holiday-themed treats like warm, freshly-baked chocolate chip cookies at Broad Street Lodge. Patrons looking for a little something extra to warm themselves up can visit Winter on Broad Street's Holiday Spirits stand, which will offer spiked ciders and cocoas, mulled wines, and a bonus menu of festively-inspired craft cocktails like the Gingerbread Gin Spin and Peanut Butter Melt.
Guests at Winter on Broad Street will also be able to enjoy Mistletoe Marketplace, a vast artisan village where patrons can complete their holiday shopping list at a variety of vendor kiosks offering festive goods and unique holiday gifts such as hand-crafted ornaments, custom artwork, wintertime clothing and decor. Local businesses interested in exhibiting in Mistletoe Marketplace can request more information at wfc-groupevents@comcastspectacor.com.
For those looking for a safe way to socialize, Winter on Broad Street will offer a number of unique and interactive experiences for all ages, including a Letters to Santa crafting station and mailbox, and a holiday photo station featuring Philadelphia's favorite mascot, Gritty, decked to the nines in his finest 'Gritty Claus' regalia -- just in time for your family holiday photo!
"We are absolutely thrilled to bring all things 'merry and bright' to South Philadelphia this year," said Wells Fargo Center's Chief Business Officer, Mike Shane. "We pulled out all the stops to make this experience immersive and magical for adults and children alike – from meandering through each of the half-million twinkling lights to enjoying a warm mug of spiked hot cocoa, the spirit of the season will come to life for everyone."
Tickets are extremely limited and start at $20 for adults and $15 for children under 13. Admission is free for children five and under. All ticket buyers will be required to select a designated arrival window when purchasing. Capacities are limited and sellouts are anticipated - patrons are encouraged to book their timed tickets early.
Winter on Broad Street is open 5-10 p.m. Sunday through Thursday and 5-11 p.m. on Friday and Saturday. Ample parking is available for FREE in the Wells Fargo Center parking lots.