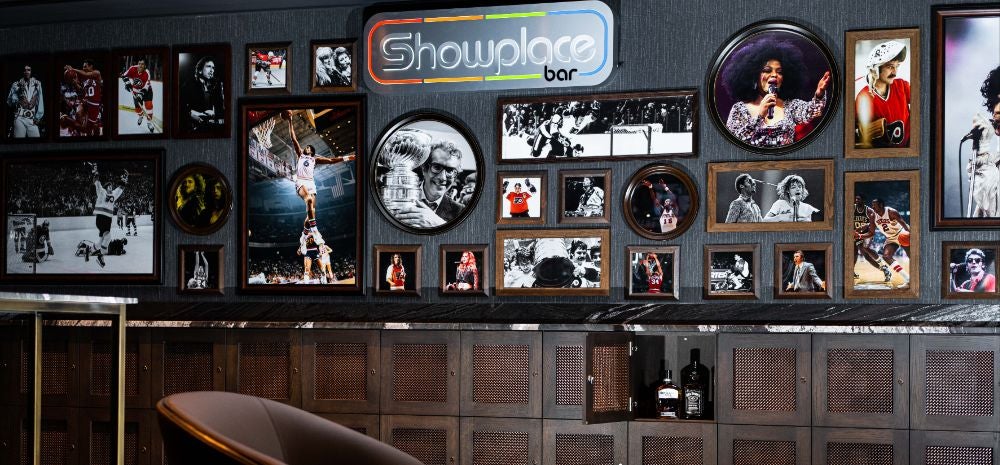 The New Wells Fargo Center Previews Brand-New Club Level
Oct

12

, 2022
Today, the New Wells Fargo Center previewed the brand-new Club Level, which will officially open to the public on Thursday for the Flyers' season opener against the New Jersey Devils at 7 p.m. Media and guests previewed food and beverage, design elements, technology and exclusive merchandise. Below is a recap of the new features and concepts.
Premium Access Entry
The brand-new entrance and lobby are located on the Broad Street side of the arena and adjacent to the VIP parking lot, making it easier than ever for premium seat holders to enter and exit the arena. Inside the new entrance is an expansive lobby area with a high-end bar, multiple seating options, and cozy fireplaces for guests to relax pre-game or wait for other members of their party to arrive. Upon arrival to the Club Level, guests will also have access to a secured coat check on both Broad Street and 11th Street sides.
New Seating Layout and Options
The all-new Club Level's extensive redesign transformed the former multi-box structure and opened up more than 13,000 square feet to create a premium, open-seating layout. The dynamic, modern space features 1,585 seats from several unique seating options:
Club Premier: With seats closer to the action than any other club seat, this is also the only seat in Wells Fargo Center with in-seat service from any food and beverage location in the arena. Want a Toothsome Milkshake? It's coming right down from the Mezzanine. Want to try tacos from Buena Onda? You can have that delivered right to your seat, too. Plus, each ticket comes with $30 in loaded value that can be used for food, beverage, or merchandise throughout the arena. Flyers and Sixers playoff tickets are also included in the price of the season ticket. These exclusive seats are already sold out for the 2022-2023 season.
Brand-new Loge seating: Experience the largest, most comfortable seat in the building with the intimacy of a suite and the amenities of club seating. This seat has great views, $30 in loaded value for food, beverages, and merchandise, a ledge to support dining and drinks, and USB ports for charging your devices. These seats are also sold out for the 2022-2023 season.
Club Select: Similar to the Club Premier option, including loaded value for food, beverages, and merchandise. In-seat service is inclusive of Club Level celebrity chef dining options: Garces Eats, MVP, and Adrian. Remaining inventory on Club Select is limited.
New Technology
Cutting edge technology is featured throughout the level for a next generation look and feel.
OLED Screens

26 cutting-edge, transparent OLED displays are located behind the main bars and will rotate various content elements from event to event. Specialized content will include live feeds with in-game statistics and other in-game information and full screen takeovers for key moments like goals, the PECO Power Play and pivotal plays on the court.
The Planar® LookThru™ Transparent OLED Display delivers all the benefits of digital signage while allowing viewers to see through the display.

Holograms

Using cutting edge technology from tech leader PROTO, the content within these hologram stations will rotate from event to event, customized with players from Flyers, 76ers and Wings and other dynamic content for other events. The PROTO illusion is based on the use of forced perspective, aligning 2D video to the proportions of the 3D box (shadows, floors, lighting, depth, viewing angles, etc.)

Food Ordering Kiosks

Patrons can order their concession favorites without missing a minute of action. After ordering via the kiosk, items will be delivered directly to your seat.
Clarkie's and Chamberlain's
Located on opposite sides of the arena, these central, expansive bar areas are mirror images of one another and serve as a place for Club seat holders to relax and have a drink pre-game and during breaks in the action. A central place to socialize with clear sightlines to the ice, court, or stage, these bars are themed around one of the central features of a working two-team arena: the changeover, the switch from an ice surface to a basketball court (or concert) that takes place at the arena between events.
Named after two of the most iconic Philadelphia athletes in Bob Clarke and Wilt Chamberlain, the bars will themselves transform between Flyers, Sixers, and concert events, presenting a totally unique experience, look, and feel. Some of the changeover features of the bar include:
Signature bar top tables will change from an icy surface for the Flyers to a painted/lined maple hardwood top for the 76ers depending on which team is playing that night
26 cutting-edge, transparent OLED displays located behind the main bars
Full transformation of digital content in the club, customized to each team and brand, brought to life on more than 300 screens located throughout the bars
Side bars, LED screens, and more will be lit with different team colors and artist themes
The Center Bar
A tequila bar with a modern aesthetic, designed and themed to recall the more recent era of Philadelphia sports stars and performing artists. Through a collaboration with local artist Mario Zucca, this space will have a unique vibe topped off with digital artwork of Wells Fargo Center athletes and performers with local ties. The drink menu will rotate and include seasonal libations – first up: Smoky Harvest Apple Cider Margarita (Mezcal, Local Apple Cider, Lime Juice, Maple Syrup, Salt & Cinnamon Sugar Rim, Apple Slice).
Showplace Bar by Jack Daniels
A whiskey bar with a traditional aesthetic, designed and themed to recall America's Showplace: The Spectrum. Guests can pop in for a drink and a stroll down memory lane as they explore artifacts and portraits from the great history of the Spectrum. As guests enter the bar, they will walk past the original steel gate that was installed in the Spectrum locker room hallway in 1978 to provide security between the Flyers and visiting team locker room when emotions ran high. Photos were collected from the Spectrum archives as well as local photographer and former Spectrum employee Roger Barone.
The bar also features nearly 100 liquor lockers for Club Premier accounts where members can coordinate bottles of their choice to be stored onsite with accompanying name plaques. It will also be a destination for beer aficionados and will serve local beers exclusively.
Cap and Collar
The retail boutique will provide an exclusive shopping experience featuring specialty items only available to Club Level and Suite guests. Cap and Collar, like other parts of the Club Level, will pivot between Flyers and Sixers games. The store will feature a mix of premium products from high-end brands including Billebeino, the fashion line of Flyers alum Ville Leino. Other items like winter coats, travel bags, watches, and glassware from brands like Tumi, Line Change, Peter Millar, Cutter & Buck, Vineyard Vines, and The North Face will be featured.
Garces Eats
Garces Eats replaces The Bistro stand on the Broad Street side and will feature a rotating menu to highlight many of James Beard Award-winner and Iron Chef Joes Garces' most notable dishes from his iconic restaurants throughout Philadelphia.
The rotating menu will take diners on a tour of some of Chef Garces' favorite destinations and keep them coming back for more culinary adventures. The concept will have a kitchen for Chef Garces to explore new items that will become fan favorites and exclusive only to Wells Fargo Center.
Designed by Dash Design, the open kitchen aims to tear down the walls of traditional arena cuisine and is inspired Chef Garces' own international travels. The timeless design of the concept will be an extension of Chef Garces himself: warm hospitality, approachable, playful, global, and dimensional. It aims to create a personal connection to the people and the city of Philadelphia, that he calls home.
MVP
MVP will replace The Bistro stand on the 11th Street side and will feature a menu of James Beard Award-winner Marc Vetri's renowned pizzas. Vetri, a Philadelphia native, aims to serve high-quality pizzas using only freshly made dough. The pizza oven at MVP is a Marra Forni Stone Hearth Oven. It was uniquely built for the MVP kitchen at Wells Fargo Center.
Adrian
Adrian, a collaboration between Wells Fargo Center, Aramark Sports + Entertainment, and Starr Restaurants, led by entrepreneur and James Beard award-winning restaurateur Stephen Starr, replaces The Grille and will serve a full menu of American-style cuisine.
Designed by Rockwell Group, the restaurant's design will embrace the history of Philadelphia's sports teams with traditional accents and lighting reminiscent of an upscale tavern. With floor-to-ceiling windows overlooking the iconic Philadelphia skyline, the dining space will seat approximately 300 fans.
The New Wells Fargo Center
Wells Fargo Center is a new facility, and the $350 million Transformation project is one of the most significant arena projects anywhere in the world. Everything in the arena is being completely re-imagined, and as the full Transformation of the arena's interior concludes this fall, the building's exterior and event level (locker rooms and performer amenities) will also be completely transformed next.
The world's first-ever Kinetic 4K scoreboard system, featuring the most square feet of LED video technology in an arena that hosts both NBA and NHL games.
The New City Terrace on the Balcony Level features a brand new event experience with the Assembly Room Club, the Liberty Lofts, and the BetRivers.com Sports Lounge.
The exclusive court- and ice-side Shift4 Club where guests experience luxury with all-inclusive food and drink packages and high-end amenities
A completely transformed Mezzanine level with an expanded concourse, new high-end bars, and the Skyline Bar, spanning the north wall of the level, where guests can enjoy picturesque views of the Philadelphia skyline
Cutting-edge health and safety advancements, including contactless and cashless technology for food & beverage, ticket scanning, parking, and retail.
A state-of-the-art, $11 million HVAC system that replaces all the air in the arena bowl with fresh air every 30 minutes and was critical in the Wells Fargo Center receiving the prestigious WELL Health-Safety Rating.